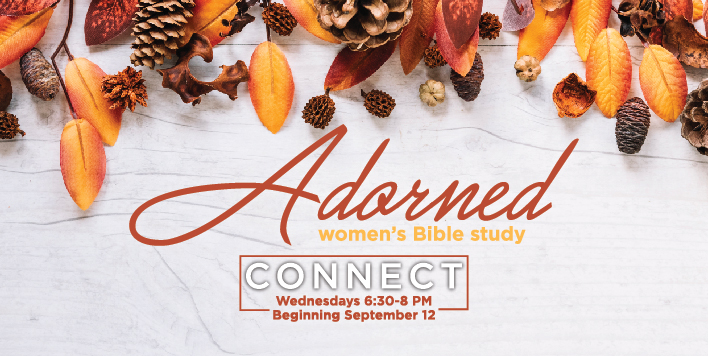 Adorned Study
Join us on Wednesdays from 6:30–8:00 p.m. as we continue to study "Adorned" by Nancy DeMoss Wogelmuth. The Titus 2 model of older women living out the gospel and training younger women to do the same is vital. It's how we all thrive, how we are adorned, and how we adorn the gospel... together.
Imagine older women investing themselves in the lives of younger women, blessing whole families and churches. Imagine younger women widening their circle to include women who've walked further down the road. Imagine women of all ages and seasons being transformed by the gospel, displaying its beauty, and making it believable to those around them.
This rich study of the instructions to women in Titus 2 provides a roadmap to help you experience the kind of community and influence God designed you to have in the church and the world.
Women to woman.
Older and younger.
Side by side.
Life on life.
This is God's good and beautiful plan.
Don't miss this amazing opportunity to dive into God's Word and learn real life practical applications for forming lasting mentoring relationships. All women ages high school and up are welcome!
This study will meetin the Front Porch room from January 16–February 20, 2019.
Click the button below to register!

---